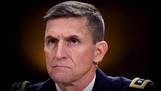 In
this New York Post piece
, John Podhoretz writes, "It might seem bizarre to say that an administration only 23 days old needed a fresh start, but look: if Adele can stop 45 seconds into a live performance at the Grammys and begin again, so too can Donald Trump."
This
has
to be a new low in political commentary. What the hell are we becoming? How on earth did
this
become the new normal? This is what it looks like to defend the indefensible.