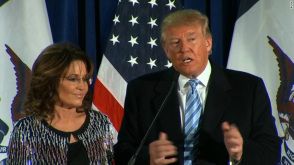 Palin Calls Carrier Deal 'Crony Capitalism'
I never in a million years thought I'd hear myself say this, but I agree with Sarah Palin!
We are indeed entering strange times.
It is certainly worth noting, and I'm not the first to do so, that with this deal, Trump is reversing course on a campaign promise and showing what his 'support' for the working class really means. All through his campaign, he said he would impose tax
penalties
on American corporations who move their jobs elsewhere.
This
move suggests something different, namely, that he is willing to give further tax
breaks
to corporations who first threaten to move their jobs, on the condition that they don't. That is pro-establishment, pro-corporation politics all day long.
Couple that with the fact that he's already promising (and, to be honest, has been promising since the early stages of his campaign), that he plans to
cut
taxes on the wealthiest Americans, and
increase
taxes on the poorest, and it's easy to see what sort of middle class 'revolution' we're in for.