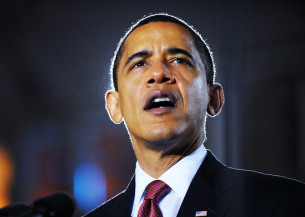 Katha Pollitt at
The Nation
has written a
moving piece
about the imminent departure of Obama. I was one of the people on the front lines during Obama's first presidential run in 2008 - knocking on doors, getting out the vote, etc. In 2009, I again beat the street, in an effort to drum up support for health care reform, working the corners outside Lafayette, Indiana's annual Jazz/Blues festival (I wasn't allowed inside the gates of the festival) in an effort to get petitions signed. And like many of the people initially inspired by Obama, I was quickly disillusioned within the first years of his presidency, as I watched Obama repeatedly extend his hand across the aisle to a bunch of petulant assholes who decided long before he arrived in D.C. that they were going to greet him with a giant middle finger.
And like so many others, I kept asking myself, Why? Why does Obama keep trying to compromise with these power-hungry zealots, who have shown him nothing but contempt? Who have consistently questioned his citizenship and encouraged their supporters to do so as well? Even after Representative Joe Wilson shouted, "You lie", Obama continued his effort to heal divisions and work with the Republicans, an effort that so many of us on the sidelines knew in our hearts was fated to fail. Like so many others, I relegated Obama to the status of president of capitulation.

But the other night, I watched with my wife and daughter a television special about the musical, Hamilton (you know, the one that Republicans on Facebook have said ought to be shut down because some of the performers had the audacity to assume that Trump and Pence were sincere with all of their hate-speech about immigrants and Muslims). At several points in the program, clips were shown of a discussion that took place between the writer and composer of Hamilton, Lin-Manuel Miranda, and President Obama. And I watched with despondency and regret a conversation that was measured, intelligent, historically informed, nuanced, and reflective. A conversation that was not reducible to 140 characters, and that did not rely on the overuse of the words BEAUTIFUL or SAD. A decent human being whom one cannot even imagine joking about grabbing a woman's genitals without her consent, or impetuously firing off a series of 3 AM tweets because his feelings were hurt by a comedian's joke. (Can you even imagine how Trump would respond if a Congress person shouted 'you lie' to him while he was speaking on the floor of Congress?) Or saying that he didn't need the daily intelligence briefings because he's 'a smart person'. And I turned to my daughter and said, "I'm going to miss Obama." I miss him already.