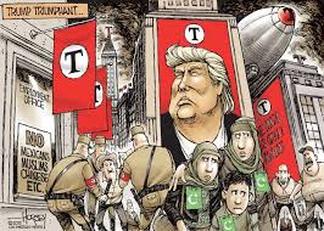 Had lunch yesterday with my friend and former student, Paul Eppler. He pointed me in the direction of
this piece by Umberto Eco
, excerpted from a longer piece titled,
Ur-Fascism
. By ur-fascism, Eco means a basic template, consisting of fourteen bullet points, hiding behind most forms of fascism.
For a fun, family activity, count how many of these bullet points correspond to rhetorical elements of Trump's campaign and presidential transition. I count thirteen!