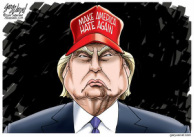 One of the most perplexing aspects of this election season has been the way in which the right has constantly attacked Hillary Clinton's credibility and trustworthiness. To the chants of 'Lock her up!', Trump has routinely employed his favorite nickname for his opponent, 'Crooked Hillary,' promising, astonishingly and unprecedentedly, to have her imprisoned if he is elected...
Meanwhile, Trump is indisputably, incontestably, demonstrably far guiltier when it comes to lying. And we're not talking about the 'shades of grey' sorts of half-truths that characterize all political speak. No, we're talking about full-blown, five alarm lies, of the 'pants on fire' variety. The most recent, (in the past twenty-four hours), are the following: (1) the Trump camp has repeatedly referred to an 'assassination attempt' on Trump after a peaceful, unarmed
Republican
protester at a Trump rally approached the stage, and Trump was rushed out by the secret service, the scare caused by a Trump supporter's shouting 'gun'; (2) after President Obama rebuked his
own
supporter for shouting down a Trump-supporting protester at Obama's speech, Trump flat out lied at his own rally about Obama's 'screaming' at the Trump supporter.
But these are mild by comparison with some of the tall tales to come out of the Trump camp. He claimed that thousands of Muslims in New Jersey were cheering when the twin towers fell. He first intimated that the President may be in league with ISIS, then later called Obama and Clinton the 'founders' of ISIS. When Hugh Hewitt gave him the opportunity to nuance that phrase, he doubled down, reasserting that yes, indeed, they were the founders of ISIS. He claimed that climate change is a hoax created by China, and that Mexico is deliberately sending their most hardened criminals into the United States. He has repeatedly denied ever supporting the invasion of Iraq, despite incontrovertible evidence that he
did
in fact claim to support it. He's repeatedly and insistently peddled the lie that violent crime is up. There's good evidence that he's not worth as much money as he claims to be, and for someone who has staked his entire political campaign on his opponent's lack of transparency, it's utterly shocking that he has successfully managed to dodge the many calls for him to release his tax returns. These are just a few of the more egregious examples, (and honestly, who can keep up with all of them?) For an extensive list, click
here
.
In
this article
, Stanford professor Jeff Hancock employs Harry Frankfurt's
On Bullshit
to explain this astonishingly imbalanced double standard. Frankfurt argues that lying entails a willful concealment of the truth, where bullshitting simply disregards the truth entirely, making things up completely on the fly to serve the speaker's purpose. Neither the bullshitter nor their listeners are persuaded or dissuaded by facts, making bullshit a more pernicious enemy to the truth than lies.
The article was written around the time of the release of Trump's now-infamous Billy Bush tapes. And indeed, the Trump campaign's response to the release of these tapes was what we might call the 'bullshit defense' - 'Don't take it seriously... it's just locker room banter...' Hancock wondered in the article whether there were limits to the amounts of bullshit that supporters were willing to tolerate, but the fact that, here we are, days from the election, and Trump is a margin of error from the presidency, and that just today, Paul Ryan explicitly and by name stumped for Trump, suggests that there aren't.