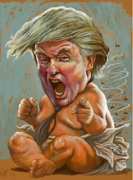 The Trump campaign is already setting the stage for lawsuits to challenge the results of the election. According to
this article
, they're filing suit against Joe Gloria, a voter registrar in Nevada, for keeping polling locations open two hours beyond the voting time. In point of fact, they allowed (as I am given to understand, they are legally obligated to do), anyone who was in line to vote,
by the time the polls closed
, the chance to vote. And in language that is
certainly not racially coded
, Nevada Republican chair Michael McDonald, speaking to a Trump audience on Saturday, said that the polls were left open '
so a certain group could vote
' (the lawsuit targets areas with high minority populations).
Isn't this the party whose favorite motto is, "quit yer whinin' and pull yourselves up by your bootstraps"? I suppose that only applies when speaking to minorities and people from underrepresented groups? To quote Alanis Morissette, 'Isn't it ironic? Don't you think?'