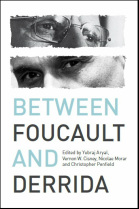 The plan for this volume was hatched five years ago over sandwiches at Panera in Lafayette, Indiana, with my good friend, Nicolae Morar. We wanted to bring together all the major pieces of the famous 'cogito' debate between Michel Foucault and Jacques Derrida, in a volume that also included several new pieces from leading scholars in continental philosophy. At long last, it is my tremendous pleasure to see it in print!
Besides the Foucault/Derrida pieces, there are new contributions by Edward McGushin, Amy Allen, Ellen Armour, Fred Evans, Leonard Lawlor, Paul Rekret, Arkady Plotnitsky, Jeffrey Nealon, and Peter Gratton. In addition, the volume includes a detailed chronology by Alan Schrift, an excellent introduction by Christopher Penfield (one of the co-editors of the volume), and a newly translated piece by Jean-Marie Beyssade. I am so proud to have been involved with this volume, (and proud of my nephew, Kurtis Sanders, who sketched the images for the back cover). Thank you to my co-editors and thank you to Edinburgh University Press for their unwavering support!
Order the volume here!